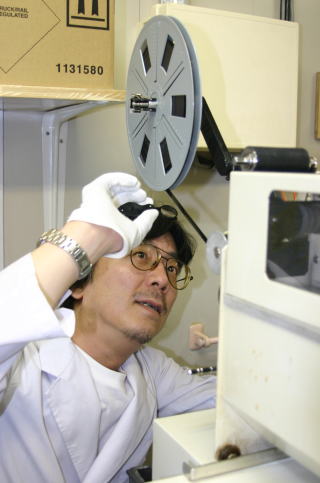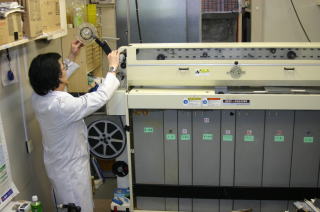 In November, 2005 Retro Enterprises became the only laboratory in Asia and the Pacific to offer 8 millimeter E-6 processing. This precision E-6 continuous processing line is carefully monitored by master chemist Mr Imada (photo right) and run by master technician Mr Ishimaru (photo left).

Processing of wider films, such as Regular-8 and 16mm, is also available.

And high-quality processing of Fuji Single 8 will continue even
after the Fuji lab closes for good in September 2008.

When development is finished, we offer a simultaneous telecine service.
Time required: 1 - 3 days

Processing cost: ¥2,500


*Colour Reversal film purchased from Retro
comes with processing already included.

For example, Kodak Ektachrome 64T is
only ¥3,200 plus tax, with developing.

.............................................................

< To customer >
Handling at the time of development processing notes sufficiently, but the case of breakdown in regard to 10,001 unexpected accident natural disaster power failure or processing you make compensating with the film where the same number is new. Because it is unable to owe the responsibility other than tha regardless of the professional amateur,
please acknowledge.
In addition during development processing it occurs, there are times when it is not avoided by any means concerning somewhat the scratch soiling. In regard to acknowledgment, please request beforehand.

......................................................

NEWSFLASH!

Retro can now process your Black & White Reversal Film....

to a NEGATIVE!

Time required: 1 week

Cost: ¥2,500 plus tax

*Please enquire about our special
Super Express 1 day service.

IMPORTANT NOTE: YOUR FILM WILL BE A NEGATIVE
FOR TELECINE ONLY - NOT FOR DIRECT PROJECTION.